Posts for: June, 2018
By Signature Smiles, LLC
June 20, 2018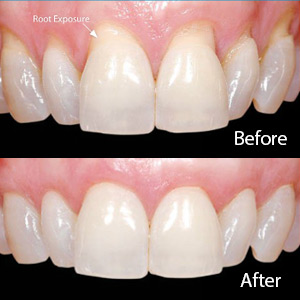 Gum recession is an all too common problem for millions of people that if left untreated could lead to tooth and bone loss. But the good news is not only can the process be stopped, much of the damage can also be repaired through periodontal plastic surgery.
Gum recession occurs when the gum tissue protecting the teeth detaches and draws back to expose the root surface. This exposure may result in a range of effects, from minor tooth sensitivity to eventual tooth loss. There are a number of causes for gum recession, including overaggressive brushing or flossing, biting habits or badly fitting dentures or appliances.
The most prominent cause, though, is periodontal (gum) disease, a bacterial infection triggered by plaque buildup on tooth surfaces due to poor oral hygiene. Fortunately, early gum disease is highly treatable by thoroughly cleaning tooth, root and gum surfaces of plaque and calculus (hardened plaque deposits), along with possible antibiotic therapy, to reduce the infection and promote tissue healing.
Unfortunately, advanced cases of gum recession may have already resulted in extensive damage to the tissues themselves. While disease treatment can stimulate some re-growth, some cases may require reconstructive surgery to repair and further rebuild the tissues.
There are several techniques periodontists (specialists in gums, bone and other dental support structures) or dentists with advanced training can perform to "re-model" recessed gum tissues. One of the major areas is placing tissue grafts (either from the patient or a human donor) at the site to encourage further tissue growth. Properly affixing a graft requires a great deal of training, skill and experience, especially in cases where the graft may need to be connected with adjoining tissues to establish a viable blood supply for the graft.
In skilled hands, a periodontal surgical procedure is fairly predictable with minimal discomfort afterward. And the lasting effects are well-worth it — not only will your health benefit from restored gum tissue and greater protection for your teeth, you'll also enjoy a more attractive smile.
If you would like more information the treatment of gum recession, please contact us or schedule an appointment for a consultation. You can also learn more about this topic by reading the Dear Doctor magazine article "Periodontal Plastic Surgery."
By Signature Smiles, LLC
June 10, 2018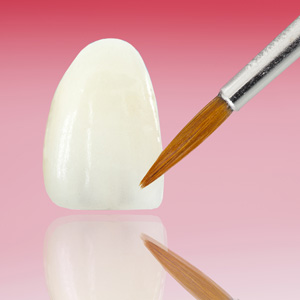 You have a problem with your teeth. Functionally, there's nothing wrong with them — but it's another story when you look in the mirror: discoloration, wearing or maybe a slight gap between them.
Fortunately, you don't have to settle for a smile you're not happy with. Less costly than crowns or bridgework, porcelain veneers can nonetheless correct many mild to moderate cosmetic problems with teeth and transform them into an attractive smile.
Like the name implies, a veneer is made of thin layers of dental material custom-designed and bonded to the outside of a tooth. Veneers can correct problems with color, tooth shape and size, and mild misalignments or spacing. It's akin to installing new siding on a house.
To begin your journey with veneers, we must first examine your teeth to fully assess your dental needs and ensure you have no issues that could prevent applying them. Then, we prepare your teeth: although not to the extent as for a crown or bridge, we must remove a small amount of tooth material so the veneer will appear natural and not bulky.
We then make an impression mold of your prepared teeth that a dental technician will use to create your veneers. During this process they build up layer after layer of liquid porcelain until they achieve the right thickness, shape and color to match your teeth.
In the meantime, we can fit you with a temporary set of veneers made of acrylic plastic so you can chew, speak and smile normally. These provisional veneers also give you and your friends and family a chance to see what your new smile will look like.
When your veneers are ready, we'll create micro-etches in your teeth that will help keep the veneer secure after we've bonded them. Once bonded, the veneer will feel like an inseparable part of the tooth and look it too. No one except you and us need know you're wearing veneers.
If you take care of them — keeping up daily hygiene habits, not biting into hard surfaces, and visiting us regularly for checkups — your veneers can last for many years. And so will that beautiful, new smile.
If you would like more information on porcelain veneers, please contact us or schedule an appointment for a consultation. You can also learn more about this topic by reading the Dear Doctor magazine article "Porcelain Veneers."